THE DUFF: "Healthy" Line Combinations?
Every so often, The Duff will come up with a post. Here's one:
Given all the injuries this year, we have yet to see the Pens full potential... This could be a good thing, giving them a chance to peak at the right time... going into the post-season. Bylsma mention that Staal will play with Kennedy and Cooke, even with the return of Sid and Geno. The Line-ups below displayed effective line chemistry over the past. These lines could solve problems, and prove to be most effective at wearing teams down in the offensive zone.

Line 1. Kunitz - Crosby - Malkin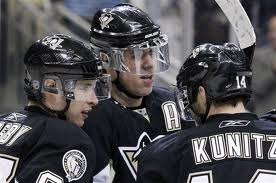 "Game breaker line." Sid can break Geno out of his funk.
This line makes two all stars happy to play with talent.
They can produce enough points alone to win many games.

Players Production*
38% EV 87 14 KUNITZ,CHRIS - CROSBY,SIDNEY - 9 DUPUIS,PASCAL
34.63% EV 87 CROSBY,SIDNEY - 9 DUPUIS,PASCAL - 14 KUNITZ,CHRIS
9.99% EV 87 71 MALKIN,EVGENI - CROSBY,SIDNEY - 14 KUNITZ,CHRIS

The most telling stat is Geno's, only about a percent less than 11.38% with his regular line.
Given that Geno plays on that line 10-15% of his ice time, we could see him blow up.
Sid deserves to win the scoring race this year...Release the Kraken.
Line 2. Cooke - Staal - Kennedy


These guys have yet to hit prime... Let them gel into a bigger monster.
They can play against any line. They keep opposition's top lines out of offensive zone.
They can also score goals.

Production*
8.24% EV 24 COOKE,MATT - 48 KENNEDY,TYLER - 25 TALBOT,MAXIME
30.75% EV 11 STAAL,JORDAN - 24 COOKE,MATT - 48 KENNEDY,TYLER
9.64% EV 48 KENNEDY,TYLER - 24 COOKE,MATT - 25 TALBOT,MAXIME

Staal's Stat says it all.


Line 3. Dupuis - Letestu - Connor



Modified "buzz line."
Pen's Two best hustlers, now on the same line.
These guys were awesome keeping the puck in the zone this year.
Their role is to kill the clock in offensive zone in order to get the first line out against a tired Defense.

Production*
3.67% EV 9 DUPUIS,PASCAL - 14 KUNITZ,CHRIS - 10 LETESTU,MARK
28.02% EV 10 LETESTU,MARK - 48 KENNEDY,TYLER - 18 CONNER,CHRIS
50.19% EV 18 CONNER,CHRIS - 48 KENNEDY,TYLER - 10 LETESTU,MARK

Letestu and Connor played on multiple lines, their totals are best together.


Line 4. Asham - Talbot/Adams - Rupp/Godard

I call this line "Big Time."
Provides big time size and big time clutch plays.

Production*
19.69% EV 45 ASHAM,ARRON - 27 ADAMS,CRAIG - 17 RUPP,MICHAEL
7.23% EV 25 TALBOT,MAXIME - 45 ASHAM,ARRON - 24 COOKE,MATT
12.86% EV 27 ADAMS,CRAIG - 45 ASHAM,ARRON - 17 RUPP,MICHAEL
14.57% EV 17 RUPP,MICHAEL - 27 ADAMS,CRAIG - 45 ASHAM,ARRON
36.89% EV 28 GODARD,ERIC - 27 ADAMS,CRAIG - 17 RUPP,MICHAEL

Stats are meaningless here. Talbot is in trouble. Adams blocks shots and wins a couple face-offs. Asham is fat. Asham - Talbot - Rupp should be a regular line. Talbot has a better face-off percentage than Adams, and can score. Talbot does just as well on PK. With the return of Staal, Adams has no other role to fill other than PK. The constant threat of a healthy scratch would push both of these centers to play better.


*Highest production percentage when paired with at least one line-mate