7:00 PM
Prudential Center
Listen to the game at [
WXDX
]
Know the Enemy:
"But this is Pittsburgh we are playing tonight and it doesn't matter that we are going old school tonight or that we are 5-0 against them this season. The Penguins could care less what NJ is doing and are going out there to win. The lead the Devils by 2 points in a tight race for the division."
Two huge games in a row.
Devils tonight and Bruins tomorrow night.
Until the playoffs start, it's going to be tough to find a couple of game that have more potential to impact rest of the Penguins' season.
The Pens have a two point lead over the Devils in the Atlantic division.
They also have a game in hand.
A win today would be huge for either team.
The Devils have absolutely owned the Penguins this season.
They're 5-0 and could sweep the season series tonight.
During the 2009 playoffs the Pittsburgh Penguins proved that they could perform at their best when it mattered the most.
Tonight they will need to do the same.
He bruised his foot on Sunday against the Lightning.
He last played on October 24th, 2009.
In that game he was hit in the forearm by a Bill
Guerin
slapshot
and required surgery.
We feel like we should do our part to celebrate the red and green Devils as well:
Penguins lines:
Alexei
Ponikarovsky
- Sidney Crosby - Pascal
Dupuis
Chris
Kunitz
- Jordan
Staal
- Bill
Guerin
Matt Cooke - Tyler Kennedy -
Ruslan
Fedotenko
Mike
Rupp
- Max Talbot - Craig Adams
Sergei
Gonchar
- Mark Eaton
Brooks
Orpik
- Kris
Letang
Jordan Leopold - Alex
Goligoski
Marc-Andre
Fleury
"Now is your chance to shine. Are you Jeff's biggest fan? Can you belt out a no-nonsense, no-frills anthem ''The Pittsburgh Way?'' Let us know!"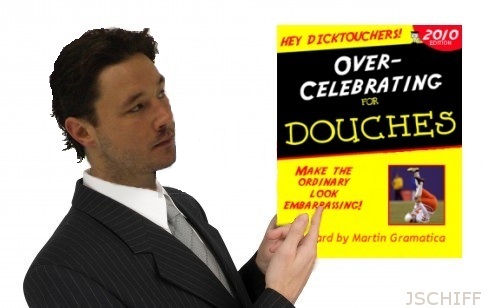 "Right now they have that confidence against us,"

Guerin

said of the Devils. "They've played really well against us. Marty (

Brodeur

) has played good against us. I don't know. It's one of those things. I don't think anything's been given to them. I think we've played some strong games against them.
"You go, we go."
Do it.
Go Pens.