Sens Reporter Responds To Pittsburgh Media, Forgets About His Own Jobbing
We hate the Pittsburgh media usually, but we have to give kudos again to
PG
reporter Ray
Fittipaldo
for going into the lion's den and not backing down from Andy Sutton or the
fanboy
Ottawa media.
If you haven't seen the video:
Joke bags from the Ottawa Sun are less than pleased about the situation.
Issac
Mendes or whatever his name gives his account of the situation in a brilliantly written
homoerotic
article.
Two members of the Ottawa media had follow-up questions, which Sutton answered while reiterating that he thought it was a clean hit. It was pretty clear that he had nothing else to say about the matter after the third question. He didn't feel it was a worthy of a suspension. He didn't feel like he targeted the head. What else could we ask him?

But because "Genie in a Bottle" rules don't apply to NHL post-game scrums, a fourth question was granted.

And that's when things went south.

A reporter from Pittsburgh asked: "Did you know that you got your elbow up on that hit?"

Sutton replied, "Are you asking me, or are you telling me?"

In Sutton's defense, the question was awkwardly worded. It was more of a statement than a question; and it was a loaded one at that.
Later in the article, Mendes wrote this:
Upon reviewing the replay in my hotel room, it was a good, clean hockey hit.
Was Mendes naked when he watched this? No question.
But the real point of this is Mendes is jobbing
Fittipaldo
presumably for not obeying some sort of professional thing.
But unfortunately for Mendes, he has proven to be very unprofessional himself.
When? Earlier that morning.
Check out his posting on
Twitter
on the morning of Game Two:
As always, what you do on the Internet echoes in
enternity
.
That smiley face would not hold up in a court of law, therefore he is guilty of being serious.
As much as blog wars can still be fun, the media wars during the playoffs are great theater.
After the jump, more things that will piss you off.
Most notably NBC's apparent new double standard.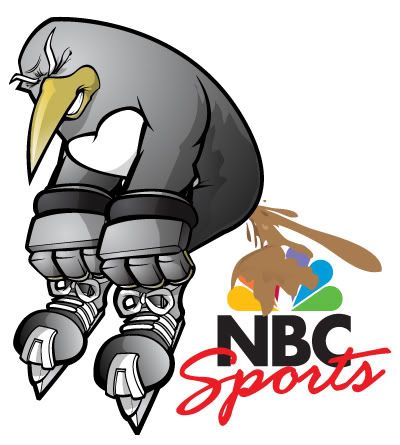 Great read from
PUCK DADDY
yesterday on how the Buffalo
Sabres
were allowed to use their Big Screen for fans outside the game:
Game 1 featured between 3,000-4,000 fans, according to the Buffalo News, and those numbers will likely grow as the series goes on. For those without tickets, they're able to stick and watch the games on a large screen under a 40 x 120-foot tent -- including Game 2 this afternoon which is to be broadcast on NBC. (After today's game, the tent will likely be gone after complaints from fans that they couldn't see the screen, which is smaller than the one in Pittsburgh.)

The question that will come from Penguins' fans now will be why can this be done in Buffalo and not Pittsburgh.

One reason is that the game footage used on the Sabres' outdoor screen today will be taken from the HSBC Arena Jumbotron, and will use the Buffalo broadcast team of Rick Jeanneret and Harry Neale.

There's no misappropriating the NBC feed in this case, but you can be sure that the local ratings in Buffalo might take a small hit if even more fans show up this afternoon
Now there is no real point in getting all worked up about this yet.
The Pens don't even play on NBC in the first round.
And maybe NBC already knows Buffalo's playoff season won't be worth the aggravation.
The
Sabres
using their own feed is a moot point.
NBC is still losing viewers in their little Nielsen shit.
In, might we add, one of the biggest hockey TV markets in the States.
But if this sets the precedent, does that mean the Pens can show the
JumboTron
feed on their big screen for NBC
games...while
also syncing it up with Mike Lange and Phil
Bourque's
radio call? What a tremendous experience that would be.
Stephen S's work continues to be stolen by various printing companies in the Strip District.
The only place to buy Stephen's shit is in his store at
Cafepress
.
If you do see this shit, go up to whoever and try to get an e-mail address.
Play it as if you are interested in buying a large bulk or something.
Any contact information would be great. Hell, even a
cellphone
picture.
The fact that we're divulging the plan to end this person on the blog has not been lost on us.
Whoever is doing this is a piece of shit and probably can't read anyway.
The
Habs
had a stranglehold on the series.
They jumped out to a 2-0 lead.
Theodore, who was a model of consistency down the stretch, gets yanked.
Then they were up 4-1 at the tail end of the second period.
Bunch of people sent these in and Tweeted them.
Then they were up 5-4 with 5 minutes to play.
The Caps were in big trouble.
But the Caps did what they had to do, scoring late to tie it.
And then
Backstrom
snipes one early in overtime to send the series to Montreal 1-1.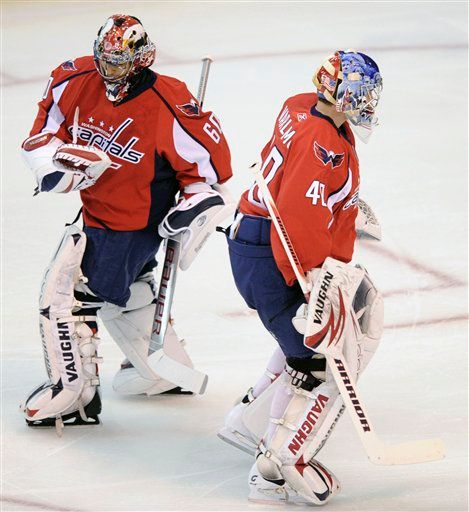 But oh shit.
Boudreau
may have stirred the pot with his goaltending decision.
Naturally, any goalie who gets pulled will be raring to go at the start of the next game.
But the wrinkle in this situation is former Montreal goalie Theodore heading back into the belly of the beast.
Game Three is
gonna
say a lot about Theodore's state of mind.
Montreal fans will be in his head the entire game.
It's going to be quite the spectacle.
we don't even know
sick
go pens