2:00 PM
Mellon Arena
Listen to the game at [
WXDX
]
Thank you, NBC, for the
2PM
Sunday start.
Game two against the
Habs
.
Our chance to put them in a hole before we head to Montreal.
Splitting the series 1-1 in Pittsburgh would be considered a victory for them.
It would be bad news for us.
"Although both players were optimistic about how they are progressing, neither was willing to give a timetable on when they will return to the lineup. Kennedy said his return is dependent on getting himself into game shape while Leopold has to see how he responds to live hitting."
Obviously,
Staal
will be out for the Pens.
Disco is calling it "Lacerated," not "severed." [
PENS
]
Friedman better put on some old clothes, 'cause we're throwing him under the bus.
Thank God we aren't a reputable news source.
Originally posted at 11:

09am

:
Add a comment
The Penguins have broken some pretty good goalies in the recent playoff runs.
It took them about 45 or so minutes to break
Jaroslav
Halak
in Game One.
Halak
was eventually pulled midway through the third period for Carey Price.
And the Pens went on to win 6-3.
The
powerplay
came alive.
If Mike
Yeo
had a blog, he would be posting a big picture of his sac.
The Pens had four
powerplay
goals.
Craig Adams scored a huge goal of his own.
Crosby and
Malkin
had 0 of the Pens' 6 goals.
A lot of great things to talk about coming out of this game.
Except for this.
Staal
was injured in the second period when he collided with Montreal's
P.K
.
Subban
.
No real indication of the severity of the injury, and that's to be expected.
Disco said the injury is "undisclosed."
Staal
has played 358 straight games.
But there is nothing anyone can do about that.
An injury is just another hurdle.
So the
Habs
looked tired.
That was also to be expected.
And they get no favors from life, as they have to turn around and play an afternoon game on Sunday.
When you consider how the Pens played in this one, along with Montreal trying to regroup in time for Sunday...
No sympathy for the
Habs
not having a rest between the rounds.
Maybe they should've started playing in the Caps series before Game 5.
Like 800 pictures after the jump.
7:00 PM
Series Tied 0-0
Mellon Arena
Listen to the game at [
WXDX
]
Oh Montreal.
Just days ago we loved you. We cheered as Hal Gill blocked shot after shot.
Watching
Jaroslav
Halak
put on a series of great performances filled our Caps-hating hearts with joy
We were almost singing "Ole ole ole" along with you.
And now.... now not so much.
Now you are our enemy.
You're in the middle of a great run.
You're playing a dedicated style of hockey that was able to shut down the highest scoring team in the league.
You've already defied all expectations and exceeded all goals.
But you want to keep going, don't you?
You want another upset. You want to beat the defending Stanley Cup Champions and advance to the Eastern Conference Final.
You want to be a giant killer.
But we're not the Washington Capitals.
That series is over.
Our admiration for you has quickly faded.
The
USS
HMCS
Hal Gill is now an enemy ship.
Halak
is now another goalie our team hopes to break.
We know it won't be easy. It never is.
We don't expect it to be.
We're at war.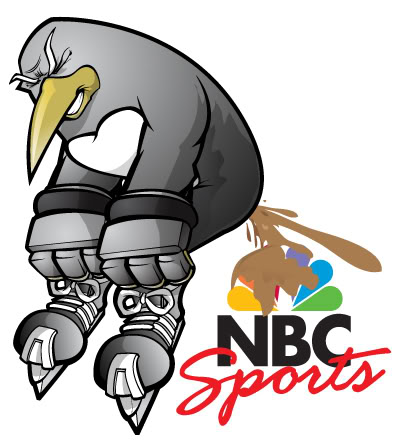 The screen will be on for tonight's game and all other games this series.
Sunday's game is on NBC and thus the screen is not allowed.
Seth at
Empty Netters points out
that "NBC really doesn't care about the 5,000 or so folks who would congregrate in front of Mellon Arena and the miniscule damage it could do to ratings points potentially.  What the Peacock does care about is the precedent it could set with one of it's bigger high profile sports partnerships such as the NFL."
The fact that NBC "doesn't really care" about hockey shouldn't surprise anyone at this point.
Go Pens.

Add a comment
First, a lesson in the history of le Club de hockey
Canadien
.
The word "Canadian" comes from "
Canadien
," which comes from
Kanada
or
Kanata
, which means "village."
There is an M. Night
Shymallayaaneyan
joke in there, but we just aren't prepared.
Also, the
Canadiens
are commonly called The
Habs
.
"Les Habitants" was a French term used to describe early French jobber settlers who farmed and shit.
The
Canadiens
team was formed to appeal to Canada's
francophone
population.
The "H" in the logo stands for Hockey, though. It's all making sense now.
You have to respect the franchise's history:
Back when the home team would wear white, we would annually buy up tickets
to at least one
Canadiens
game a year in the Igloo so we could see the red
unis
.
Worst moment of one of our childhoods was when we got a white
Habs
jersey.
But spilled a cup of coffee on it.
The stain lives to this day. Sickening.
What were we doing drinking coffee in our childhood? Nobody knows.
It's hard to job the
Habs
, but we'll find a way. The hate will come easy.
For the first time in a long time, we get to meet a
fanbase
as passionate, if not more passionate, than ours.
Battles in comment sections, message boards, and Twitter will be prevalent early and often.
We expect media feuds galore. This is
DEFCON
4.
You should start mentally preparing right now to not get any calls in Game Three.
One thing to really focus on is Montreal's long, rich history in cheating.
Back in the day, Montreal star Maurice Richard would routinely try to have sex with players from the opposing teams after big games.
Picture: Rocket Richard, after some man refused to make out with him.
Way too lazy to go find info on this, but if you're bored, go look at the shady shit surrounding the 1971 draft. Montreal basically cheated to get Guy

Lafleur

.
And let's not forget last year's All-Star ballot fix.
Again, just wait till Game Three back in Montreal.
Cookie will check
Gionta
, the building will erupt, and the refs will be forced to call something.
Given the way the first round played out, this may be the most studied we've ever been on a Penguins second-round playoff opponent.
We'd watch the Pens one day, then watch
Habs-Caps
the next day. And so on.
Guessing a lot of Pens fans are in this same boat.
(Except for THE FAN morning show, who called
P.K
.
Subban
"
T.J
.")
And after watching the
Habs
win 3 out of 4 at the Verizon Center during the series, the worst thing the Pens could do is overlook Montreal in the first two games of this series.
Maybe this is our fathers talking, but we want no piece of playing up in Montreal.
Going up there down 2-0 just isn't an option.
Going up there with a 2-0 series lead is definitely possible.
We were going to talk about this series being the most important in Crosby's career: going into the belly of the beast, routinely
doring
interviews in French and English without flinching, the booing, the derision, etc.
Then we realized Crosby has won a Stanley Cup.
Realized that Crosby won the Gold Medal for Canada in sudden-death overtime.
Realized that Sid performs his best when in the spotlight, with everyone in an arena wanting him murdered.
So, fortunately, wondering if Crosby will show up in this pressure-cooker of a series doesn't need to be entertained by any media member, English- or French-speaking.
Max Talbot,
MAF
, Kris
Letang
, etc. are returning to their backyard.
If 66 isn't involved in the ceremonial
faceoff
before Game 3, Montreal has no clue what they're doing.
But we know what we're doing. The series preview. After the jump.
As we said with the
Sens
, if the
Habs
feel like they've already accomplished something, they've already lost.
The students at Char Valley get into the game:
Scott Park baseball fields were where childhood dreams were made and crushed.
Add a comment
In it he thanks the fans and says that what doesn't kill you makes you stronger.
He also desperately tries to backtrack on some of his earlier comments.
This was in today's post:
Say what you want about Ted
Leonsis
, but he understands the Internet. Or he should.
He should know, perhaps better than anybody, that what you write online echoes in eternity.
Writing a post in February about your team's success isn't smart.
Pretending months later that you actually believed the complete opposite all along is even worse.
But enough about the Caps.
The second round of the playoffs starts tonight.
The
Habs
roll into the Igloo tomorrow.
It's time to get our minds right.
Jump.