1:00 PM
Mellon Arena
The road trip is over.
The hype has died down.
The streets of Boston have not been stained red with blood.
We're back at Lady Mellon and it feels good, even if it's only for one game.
Only seven regular season games left for the old girl, including today.
After this game the Pens head back on the road for games against two big opponents: Detroit and Washington.
Then they'll settle into a nice six game
homestand
.
Is today a trap?
An afternoon game against the Hurricanes sandwiched in between games against New Jersey, Boston, Detroit, Washington and Philadelphia.
If any game was going to be overlooked, it would be this one.
The Canes defeated the Capitals in overtime on Thursday.
They defeated the Penguins in the last meeting between the two teams.
They're 10-4-1 in their last 15 games.
The playoffs are just around the corner.
It's time to bring that killer instinct back and crush the Canes.
Do what needs to be done.
The Boston fans went from booing Cooke to booing their own team.
The Penguins whipped out their balls, and they whipped them all over the Bruins, their fans, and their building. Other than the X morning show with Tim Benz, it's hard to imagine a bigger, more disappointing three hours for people.
There appears to be a giant rat in the background. And that dude with his hand in his pocket?
[thanks to whoever sent this in]
If we were Bruins fans, we'd probably light ourselves on fire.
What a gutless, uninspired effort. Thank God Marc
Savard
isn't alive to see it.
But that doesn't surprise us.
No one even came to
Savard's
defense two weeks ago when it happened.
The next time anyone hears anything from the Bruins, it will be at the draft. For all their crowing, the Boston media looks even dumber than it normally does. Some guy actually found a way to make the Cooke/
Savard
hit about Crosby.
Want to know where the Boston media's minds are?
They gave Shawn
Thoronto
the number-3 star in this
game...for
fighting Cooke.
So now the Boston faithful can pull out their
pics
of Larry Bird and rub themselves down in fading memories.
As for the Pens, looks like we read our Mayan calendar wrong. One day off.
A great recovery game for
MAF
. Only made 17 saves.
But if one goes in during the first ten minutes, it's a whole different game.
And the game brought us a new nickname:
This could be 6, but first tiebreaker is wins.
Pens have 42 wins. Atlanta has 30 with 12 games left.
Tiebreakers are wins, then points earned head-to-head, then goal differential head-to-head.
7:00 PM
TD Garden
Know the Enemy:
They're really angry over there.
We can't possibly figure out why.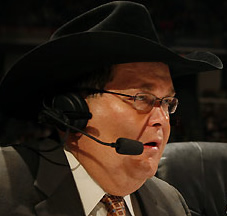 "By
Gawd
! This is
gonna
be a
slobberknocker
!"
And the cell is lowered....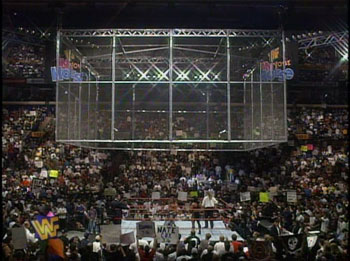 "Take Sidney Crosby down every chance they get. He, not Cooke, is the Penguins' heart and soul. Make him bleed for the sins of his teammate.

Take him into the boards. Knock him down every chance you get. Bounce a puck off his nose if you can. If you get a blind side shot at him, put your body through his chest."
The Bruins may want to focus on winning a hockey game instead.
Making Crosby bleed won't widen the gap between the Bruins and the Rangers for the eighth and final playoff spot.
Vince McMahon will be there to order Earl
Hebner
to ring the bell.
Maybe not.
"Wait.... oh my
gawd
! That's Eric
Godard's
music!"
Somewhere in a dark room Marc
Savard
nods his head in approval. Then he throws up.
What lesson would a Bruin be teaching Cooke? How to choke in the playoffs? Could someone advise?
No one is afraid of the Boston Bruins.
What's
Chara
going to do? Look at someone? Joke.
But the best part of the Boston Herald's coverage comes here. From some guy named
Turd

Borges:
What the Bruins should do instead is play their most physical game of the year. Contest every loose puck. Take Sidney Crosby down every chance they get. He, not Cooke, is the Penguins' heart and soul. Make him bleed for the sins of his teammate.

Take him into the boards. Knock him down every chance you get. Bounce a puck off his nose if you can. If you get a blind side shot at him, put your body through his chest.

Same is true of Evgeni Malkin if he plays. He may not due to - as the insurance companies say - a pre-existing condition (he missed last night's game against New Jersey). If he does try to skate, put a body on his already injured body every chance you get.
He goes on to compare Colin Campbell to Pontius Pilate.
This should be fun.
Go Pens.
[Thanks to Jim B. for the tip]
Add a comment
"You can't beat us."
"You can't beat us."
"You can't beat us."
Those were the chants of Devils fans as the Devils went on to clinch a 5-2 victory over the Pens.
We need the video and audio, because we're going to make that our ringtone until the playoffs
Look, is it good that the Pens have lost six straight to the Devils? Nope.
But despite the resounding tones of bridge jumpers, we love it.
Because when the band rolls into New Jersey come Mid-April, the world champs will be left for dead.
If any team on the planet feeds off being not given a chance, it is the Pens.
And before we get ahead of everything, the Devils haven't clinched or won anything yet. Tons of hockey to be played.
All these people speaking about playoff matchups are garbage. How did that
UPDATED
two
third seed work out for the Devils last year?
Bottom line, once the playoffs start, all bets are off. It'd be nice to have home ice in the first round. There is no easy path to the promise land. If that isn't in you're mind already, no clue why you read this site.
And as for
wrestlemania
tonight against the Bruins.
Bring it.
7:00 PM
Prudential Center
Know the Enemy:
"But this is Pittsburgh we are playing tonight and it doesn't matter that we are going old school tonight or that we are 5-0 against them this season. The Penguins could care less what NJ is doing and are going out there to win. The lead the Devils by 2 points in a tight race for the division."
Two huge games in a row.
Devils tonight and Bruins tomorrow night.
Until the playoffs start, it's going to be tough to find a couple of game that have more potential to impact rest of the Penguins' season.
The Pens have a two point lead over the Devils in the Atlantic division.
They also have a game in hand.
A win today would be huge for either team.
The Devils have absolutely owned the Penguins this season.
They're 5-0 and could sweep the season series tonight.
During the 2009 playoffs the Pittsburgh Penguins proved that they could perform at their best when it mattered the most.
Tonight they will need to do the same.
He bruised his foot on Sunday against the Lightning.
He last played on October 24th, 2009.
In that game he was hit in the forearm by a Bill
Guerin
slapshot
and required surgery.
::::::::::::::::::::::::::::::::::::::::::
eurydice_krg
with some solid
pics
from Pens practice.
LINK.
Alex B. -- anthem
pic
from Jay-Z concert.
We're in the process of tagging every photo in
Picasa
to make them searchable.
It's a mess over there right now.
Link in the right sidebar ---->
Go Pens.
Add a comment
No clue what's even going on in the March Madness thing. Completely forgot it was this week. But we've always had a pool, so why stop a tradition.
But anyway we have some things to give out.
1st place -- $100 cash + free rinko entry
2nd -- $50 cash + free rinko entry
3rd -- free rinko entry
4th- free rinko entry
5th-- rinko entry
The group is through yahoo's pickem.
Group ID#: 164180
Password: mario
Whatev.Go Pens.
Add a comment