We're not condescending assholes by any stretch of the imagination.
But you just can't get too high or too low in the playoffs.
It's been flat-out entertaining listening to voices on sports-talk shows saying that the Pens will now be running away with this series, that this series ends on Thursday night, etc.
Four days ago, these people were vomiting all over themselves.
Now they're walking around like the Pens are world-beaters.
The energy from the home crowd hurt the
Sens
more than it helped them. The first two games of this series, they played a simple road game, maintained the "us against the world" mentality, and they almost escaped Pittsburgh with two wins.
That home-crowd energy got the best of them in Game Three, but the Senators are a professional-hockey team with a solid brain trust of coaching that goes beyond Cory
Clouston
. The play that turned this game on its head was the Senators letting Bill
Guerin
hang out on the other side of center-red. The goal made it 4-1, and the
Sens
started jobbing people afterward, knowing the game was over. It's a simple defensive lapse that will be replayed over and over in the film room for the players. Without the goal, the final minutes of this game would've taken on an entirely different intensity, with the
Sens
only being down by one goal.
Game Four is going to be a dogfight. Pens will be ready for it.
The way the
Sens
played in Games One and Two wasn't a fluke.
But they are still jokes.
Moreover, with Game Three, this playoff series has become a hate fest.
We hate the Senators. We hate the entire city of Ottawa. We hate the Ottawa media.
When Crosby comes out for the three stars, we wish he would throw a grenade into the stands.
Not like it would affect anyone, since they were sent to the gates early in the third.
One reason we are glad Andy Sutton wasn't suspended is because it is almost better keeping him in there so Geno and Bing can turn him into a street sign. Sutton was smoked for two goals by the Mega Powers.
On the other side, Sutton started the Butterfly Effect with his hit on Leopold.
With Leo out, Jay McKee stepped in and played a great game.
He laid his life on the line like nine times. Jay McKee is built for the playoffs.
Now the Pens have a pivotal game on Tuesday.
A win puts the
Sens
down 3-1.
With a casket match set for Game Five in the Mellon.
Oh man.
After the jump, a recap that has WAY too much shit in it.
6:30 PM
Series Tied 1-1
Listen to the game at [
WXDX
]
Know the Enemy:
This game is going to be physical.
The hate has grown since game one. The intensity is way up.
The Senators are coming home after a one goal loss in game two.
They're going to be energized in front of their home crowd.
The Penguins are "out for justice" after seeing Jordan Leopold motionless on the ice.
They're riding high following their win and hoping for more of the same.
It's definitely going to be a hard-hitting, physical hockey game.
We should know.
We're experts.
We hate the Pittsburgh media usually, but we have to give kudos again to
PG
reporter Ray
Fittipaldo
for going into the lion's den and not backing down from Andy Sutton or the
fanboy
Ottawa media.
If you haven't seen the video:
Joke bags from the Ottawa Sun are less than pleased about the situation.
Issac
Mendes or whatever his name gives his account of the situation in a brilliantly written
homoerotic
article.
Two members of the Ottawa media had follow-up questions, which Sutton answered while reiterating that he thought it was a clean hit. It was pretty clear that he had nothing else to say about the matter after the third question. He didn't feel it was a worthy of a suspension. He didn't feel like he targeted the head. What else could we ask him?

But because "Genie in a Bottle" rules don't apply to NHL post-game scrums, a fourth question was granted.

And that's when things went south.

A reporter from Pittsburgh asked: "Did you know that you got your elbow up on that hit?"

Sutton replied, "Are you asking me, or are you telling me?"

In Sutton's defense, the question was awkwardly worded. It was more of a statement than a question; and it was a loaded one at that.
Later in the article, Mendes wrote this:
Upon reviewing the replay in my hotel room, it was a good, clean hockey hit.
Was Mendes naked when he watched this? No question.
But the real point of this is Mendes is jobbing
Fittipaldo
presumably for not obeying some sort of professional thing.
But unfortunately for Mendes, he has proven to be very unprofessional himself.
When? Earlier that morning.
Check out his posting on
Twitter
on the morning of Game Two:
As always, what you do on the Internet echoes in
enternity
.
That smiley face would not hold up in a court of law, therefore he is guilty of being serious.
As much as blog wars can still be fun, the media wars during the playoffs are great theater.
After the jump, more things that will piss you off.
Most notably NBC's apparent new double standard.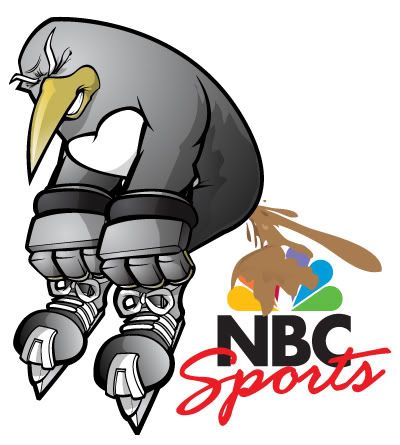 The best YouTube in the world today:
That's the Post-Gazette's Ray
Fittipaldo
getting
Sutton'd
.
For most of the game, it looked like the tagline of the next "History Will Be Made" video was going to be, "What if Kris
Letang
could hit the net?"
But that's the fun part of the NHL playoffs.
Just when you start to job someone, they shut you up.
And you welcome the message to shut up with open arms.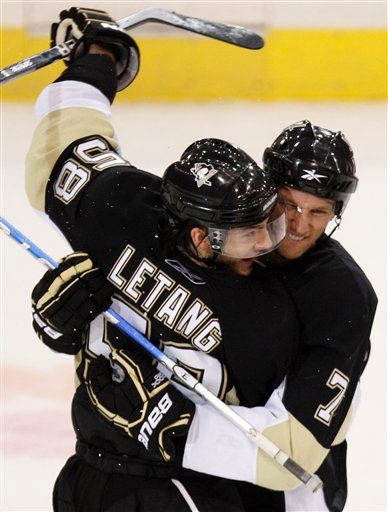 We saw the shot. And we're experts.
MAF
gets a solid game under his belt. Still looked shaky.
If there's one thing we won't miss about Mellon Arena is the "Oh Shit" feeling that was prevalent throughout the entirety of the second and third periods; Hell, the whole game.
William Regal's early goal was like getting kicked in the nuts.
But it happened way too early.
The Pens now head to Ottawa for Games Three and Four.
Pens won 22 games on the road during the season, 2nd-best in the East.
The
Sens
were 26-11-4 in their barn during the season.
That's one regulation loss every 2.7 games.
If it wasn't simple division, we wouldn't have wasted our time.
7:00 PM
Mellon Arena
Listen to the game at [
WXDX
]
Know the Enemy:
Game two.
The playoffs are a journey.
There are twists and turns.
There are highs and lows.
There are upsets.
The Penguins, Capitals, Devils and Sharks are all ranked higher than their opponents.
They all lost game one.
Anything is possible in the Stanley Cup Playoffs.
As we mentioned yesterday, if everything goes terribly wrong and the Penguins are swept by the Senators, this could be the last game in Igloo history.
But it won't be.
From the moment it was unleashed, it was widely regarded as the worst marketing slogan in the history of the world:
It sucked the life out of everything.
And now, as Rick mentioned yesterday, a new slogan is here.
"OUT FOR JUSTICE."
We love it for so many reasons.
1.) It makes limited sense, which is great.
Jay McKee mentioned it was pretty much nonsense.
And it references Steven
Seagal
.
What a tagline.
2.) This:
Half-tempted to walk into work today and keep asking if anyone knows why Richie did Bobby
Lupo
.
What an awkward scene.
3.)
4.) The shops. People are inspired:
Jump city for "
Rupp
in,
Tenk
out" rumors.
And the Green Men make another appearance in Vancouver.
Before game six of the final last year:
Friday night.
Do It.
As much as you may have been pissed at
Fleury
for ruining your Wednesday night,
his displeasure with his own performance completely dwarfs your life.
He bounces back. It's proven in the past.
It's not even an issue.
MAF's
psyche used to be fragile. But not in the past couple years.
Still, it'd be nice to give the man some love on Friday.
FLUR-EE
,
FLUR-EE
,
FLUR-EE
.
Even on a save on a bullshit shot by Chris Phillips from the point.
FLUR-EE
,
FLUR-EE
,
FLUR-EE
.
Starting Sunday, the chants turn into
FLUURRRREEEE
,
FLURRRREEEE
.
We're all fans of the defending Stanley Cup champs.
Fans of a team that has been to the Finals two years in a row.
So we have no clue why the sky is falling in certain circles today.
Did people really forget that you can lose a game in the playoffs?
Oh, right. Chris Kelly's goal on the bad bounce was a "
powerplay
goal."
It was definitely a letdown, no shit.
But this is where the Stanley Cup swagger kicks in.
Losses like this shouldn't phase anyone.
Brian Elliott is probably the shakiest goalie the Pens have faced in the past three playoffs.
Don't tell Gene Collier that, though.
Four goals against. He had a clear look on three of the goals.
Craig Adams scored his first goal of the season. On his backhand.
He made one save worth touching yourself about, stopping
Poni
point-blank.
Gene Collier didn't even watch the game. Guaranteed.
Dan
Bylsma's
mantra is the longer a series goes, the better it is for his guys.
The cream eventually rises to the top.
So, this series may not be over quickly.
Give credit to the
Sens
. They didn't let
Malkin's
early goal mess up their shit.
They came into the contest with Trust Fund
Clouston's
game plan, and they executed it.
People will be all over
MAF
today.
Anytime Chris Neil and
Jarko
Joko
score against you, that's going to happen.
But blaming
MAF
is too easy. Tough night all around.
Bottom line: We will know a lot more about this series, and this season, on Friday night.
If you are feeling down, there are plenty other
fanbases
sharing that feeling.
The high-seeded Devils lost, and Colorado stunned San Jose late last night.
Every game was decided by a goal.
Click
pic
to head to the
Rinko
blog.
Divisional layouts for users is coming soon.
Developers surprised even us by unveiling real-time scoring.
Didn't know that was coming.