The best YouTube in the world today:
That's the Post-Gazette's Ray
Fittipaldo
getting
Sutton'd
.
For most of the game, it looked like the tagline of the next "History Will Be Made" video was going to be, "What if Kris
Letang
could hit the net?"
But that's the fun part of the NHL playoffs.
Just when you start to job someone, they shut you up.
And you welcome the message to shut up with open arms.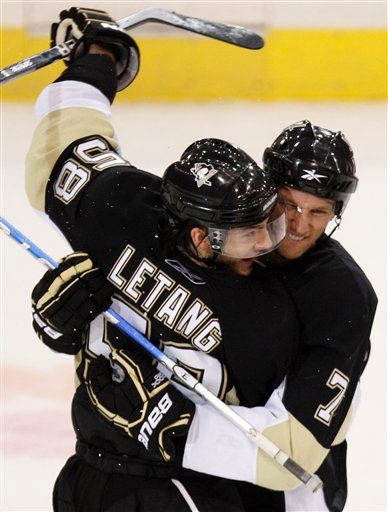 We saw the shot. And we're experts.
MAF
gets a solid game under his belt. Still looked shaky.
If there's one thing we won't miss about Mellon Arena is the "Oh Shit" feeling that was prevalent throughout the entirety of the second and third periods; Hell, the whole game.
William Regal's early goal was like getting kicked in the nuts.
But it happened way too early.
The Pens now head to Ottawa for Games Three and Four.
Pens won 22 games on the road during the season, 2nd-best in the East.
The
Sens
were 26-11-4 in their barn during the season.
That's one regulation loss every 2.7 games.
If it wasn't simple division, we wouldn't have wasted our time.
7:00 PM
Mellon Arena
Listen to the game at [
WXDX
]
Know the Enemy:
Game two.
The playoffs are a journey.
There are twists and turns.
There are highs and lows.
There are upsets.
The Penguins, Capitals, Devils and Sharks are all ranked higher than their opponents.
They all lost game one.
Anything is possible in the Stanley Cup Playoffs.
As we mentioned yesterday, if everything goes terribly wrong and the Penguins are swept by the Senators, this could be the last game in Igloo history.
But it won't be.
From the moment it was unleashed, it was widely regarded as the worst marketing slogan in the history of the world:
It sucked the life out of everything.
And now, as Rick mentioned yesterday, a new slogan is here.
"OUT FOR JUSTICE."
We love it for so many reasons.
1.) It makes limited sense, which is great.
Jay McKee mentioned it was pretty much nonsense.
And it references Steven
Seagal
.
What a tagline.
2.) This:
Half-tempted to walk into work today and keep asking if anyone knows why Richie did Bobby
Lupo
.
What an awkward scene.
3.)
4.) The shops. People are inspired:
Jump city for "
Rupp
in,
Tenk
out" rumors.
And the Green Men make another appearance in Vancouver.
Before game six of the final last year:
Friday night.
Do It.
As much as you may have been pissed at
Fleury
for ruining your Wednesday night,
his displeasure with his own performance completely dwarfs your life.
He bounces back. It's proven in the past.
It's not even an issue.
MAF's
psyche used to be fragile. But not in the past couple years.
Still, it'd be nice to give the man some love on Friday.
FLUR-EE
,
FLUR-EE
,
FLUR-EE
.
Even on a save on a bullshit shot by Chris Phillips from the point.
FLUR-EE
,
FLUR-EE
,
FLUR-EE
.
Starting Sunday, the chants turn into
FLUURRRREEEE
,
FLURRRREEEE
.
We're all fans of the defending Stanley Cup champs.
Fans of a team that has been to the Finals two years in a row.
So we have no clue why the sky is falling in certain circles today.
Did people really forget that you can lose a game in the playoffs?
Oh, right. Chris Kelly's goal on the bad bounce was a "
powerplay
goal."
It was definitely a letdown, no shit.
But this is where the Stanley Cup swagger kicks in.
Losses like this shouldn't phase anyone.
Brian Elliott is probably the shakiest goalie the Pens have faced in the past three playoffs.
Don't tell Gene Collier that, though.
Four goals against. He had a clear look on three of the goals.
Craig Adams scored his first goal of the season. On his backhand.
He made one save worth touching yourself about, stopping
Poni
point-blank.
Gene Collier didn't even watch the game. Guaranteed.
Dan
Bylsma's
mantra is the longer a series goes, the better it is for his guys.
The cream eventually rises to the top.
So, this series may not be over quickly.
Give credit to the
Sens
. They didn't let
Malkin's
early goal mess up their shit.
They came into the contest with Trust Fund
Clouston's
game plan, and they executed it.
People will be all over
MAF
today.
Anytime Chris Neil and
Jarko
Joko
score against you, that's going to happen.
But blaming
MAF
is too easy. Tough night all around.
Bottom line: We will know a lot more about this series, and this season, on Friday night.
If you are feeling down, there are plenty other
fanbases
sharing that feeling.
The high-seeded Devils lost, and Colorado stunned San Jose late last night.
Every game was decided by a goal.
Click
pic
to head to the
Rinko
blog.
Divisional layouts for users is coming soon.
Developers surprised even us by unveiling real-time scoring.
Didn't know that was coming.
7:00 PM
Mellon Arena
Listen to the game at [
WXDX
]
Know the Enemy:
Here we are.
The Stanley Cup Playoffs.
The last postseason in Igloo history.
The chance to repeat as champions.
Once again we face the Ottawa Senators.
2007
2008
The rubber match.
Tradition dictates that the winner of this series will lose in the Stanley Cup Final.
We've waited all season for this.
The playoffs are here.
Get ready.
Playoff time is here.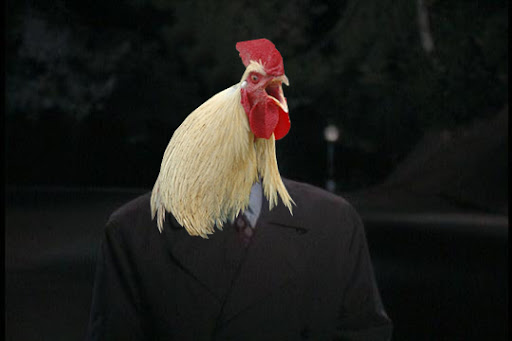 Pensblog
GM Marty the Chicken has taken the opinions of his coaching staff under advisement and has chosen seven
Gameday
Characters that will be trusted to lead the Penguins to victory.
Earlier today he issued the following statement:
Some of these characters have been chosen based on their performance this season. Others are proven playoff performers that will give our organization the depth and veteran experience it needs over the weeks and months ahead.

Keep in mind that while these seven characters have been trusted initially, our team has strong depth throughout its ranks. There are many characters that could be called up in the future if the situation warrants it.
*If you're going to the game tonight and see that joke selling Pensblog knockoff shirts,
snap a pic of him with your phone please :)

Pens calling for a whiteout tonight.
Guess somebody should tell THE FAN morning show this.
Might be the only people in Pittsburgh who don't know.
Click HERE to enter Rinkotology.

Click HERE to enter Rinkotology.
Friendly reminder that Rinko closes at 5pm tonight.
Good luck.
Our teams:
Couldn't get ahold of Rick.
He's probably already working on a Gameday.
EDIT: Rick's Team:
What a playoffs this is going to be.

Add a comment