As much as you may have been pissed at
Fleury
for ruining your Wednesday night,
his displeasure with his own performance completely dwarfs your life.
He bounces back. It's proven in the past.
It's not even an issue.
MAF's
psyche used to be fragile. But not in the past couple years.
Still, it'd be nice to give the man some love on Friday.
FLUR-EE
,
FLUR-EE
,
FLUR-EE
.
Even on a save on a bullshit shot by Chris Phillips from the point.
FLUR-EE
,
FLUR-EE
,
FLUR-EE
.
Starting Sunday, the chants turn into
FLUURRRREEEE
,
FLURRRREEEE
.
We're all fans of the defending Stanley Cup champs.
Fans of a team that has been to the Finals two years in a row.
So we have no clue why the sky is falling in certain circles today.
Did people really forget that you can lose a game in the playoffs?
Oh, right. Chris Kelly's goal on the bad bounce was a "
powerplay
goal."
It was definitely a letdown, no shit.
But this is where the Stanley Cup swagger kicks in.
Losses like this shouldn't phase anyone.
Brian Elliott is probably the shakiest goalie the Pens have faced in the past three playoffs.
Don't tell Gene Collier that, though.
Four goals against. He had a clear look on three of the goals.
Craig Adams scored his first goal of the season. On his backhand.
He made one save worth touching yourself about, stopping
Poni
point-blank.
Gene Collier didn't even watch the game. Guaranteed.
Dan
Bylsma's
mantra is the longer a series goes, the better it is for his guys.
The cream eventually rises to the top.
So, this series may not be over quickly.
Give credit to the
Sens
. They didn't let
Malkin's
early goal mess up their shit.
They came into the contest with Trust Fund
Clouston's
game plan, and they executed it.
People will be all over
MAF
today.
Anytime Chris Neil and
Jarko
Joko
score against you, that's going to happen.
But blaming
MAF
is too easy. Tough night all around.
Bottom line: We will know a lot more about this series, and this season, on Friday night.
If you are feeling down, there are plenty other
fanbases
sharing that feeling.
The high-seeded Devils lost, and Colorado stunned San Jose late last night.
Every game was decided by a goal.
Click
pic
to head to the
Rinko
blog.
Divisional layouts for users is coming soon.
Developers surprised even us by unveiling real-time scoring.
Didn't know that was coming.
7:00 PM
Mellon Arena
Listen to the game at [
WXDX
]
Know the Enemy:
Here we are.
The Stanley Cup Playoffs.
The last postseason in Igloo history.
The chance to repeat as champions.
Once again we face the Ottawa Senators.
2007
2008
The rubber match.
Tradition dictates that the winner of this series will lose in the Stanley Cup Final.
We've waited all season for this.
The playoffs are here.
Get ready.
Playoff time is here.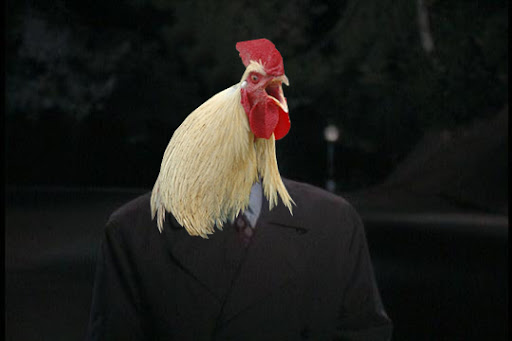 Pensblog
GM Marty the Chicken has taken the opinions of his coaching staff under advisement and has chosen seven
Gameday
Characters that will be trusted to lead the Penguins to victory.
Earlier today he issued the following statement:
Some of these characters have been chosen based on their performance this season. Others are proven playoff performers that will give our organization the depth and veteran experience it needs over the weeks and months ahead.

Keep in mind that while these seven characters have been trusted initially, our team has strong depth throughout its ranks. There are many characters that could be called up in the future if the situation warrants it.
*If you're going to the game tonight and see that joke selling Pensblog knockoff shirts,
snap a pic of him with your phone please :)

Pens calling for a whiteout tonight.
Guess somebody should tell THE FAN morning show this.
Might be the only people in Pittsburgh who don't know.
Click HERE to enter Rinkotology.

Click HERE to enter Rinkotology.
Friendly reminder that Rinko closes at 5pm tonight.
Good luck.
Our teams:
Couldn't get ahold of Rick.
He's probably already working on a Gameday.
EDIT: Rick's Team:
What a playoffs this is going to be.

Add a comment
[POSTED LAST SUMMER]
Does this stuff ever get old?
The following clip is from the Howard Stern shows sports guy Scott
Ferrall
. He is a huge Pens fan.
He recorded himself watching Game Seven's final seconds.
NSFW
but if you're here, you already knew that.
[If someone from Detroit reads
NSFW
- which means "not safe for work" - what do they do?]
Anyways:
Totally forgot to post this video and email last year:
More chances to relive the moment through others after the jump.
Basically the author is saying the NHL will conspire to get Crosby deep into the playoffs,
especially at the expense of a relatively small-market team.
Probably wasn't saying this in 2007 when Ottawa beat the Pens
on the way to the Stanley Cup Finals.
No mention of that in the article.
Charlie's reign is over.
Add a comment
Commentor Stoosh has been around quite a while.
He even has a shirt in Storeblog.
He's banged out beastly Homer-esque comments with a high level of consistency.
Only fitting to give him the reins.
We're just a little more than 24 hours from the start of the 2009-10 Stanley Cup Playoffs. Jesus, where did the season go? Has it really been six months since those banners came down from the Jumbotron to reveal the Cup at center ice of Mellon Arena? Yes, yes it has.
So with that said, it's time for playoff and end-of-season-related thoughts...dudes. Western Conference is up first.
San Jose (1) vs. Colorado (8)
Colorado's a lot of the 2006-07 Pens - a team that jumped from near the league basement one year to get into the playoffs. In fact, there may be a lot of similarities between this series and that Pens-Ottawa series in 06-07.
The Pens' best players in 06-07 were their young players; ditto for the Avs, as Paul Stastny is 24 and he's the old one.
Ottawa in 2006-07 was a team that was making its last real run under that core; Marleau and Nabokov are unrestricted free agents after this season. And if things fall apart again this year for the Sharks, Joe Thornton might as well be.
The Sharks are running out feet to shoot themselves in come playoff time, but even with their self-destructive tendencies, they should have enough to overcome a very young Colorado team that backed into the playoffs (3-5-2 in their last ten). But this could be Colorado's first step towards beginning to assert itself as an emerging Western Conference power.
Ryan O'Reilly - former Erie Otter. Can't discount the awesomeness of the Otter. Not sayin'; just sayin'.
Chicago (2) vs. Nashville (7)
I don't want to say Nashville doesn't have much star power on their team but if you put Jordan Staal on the Preds, he'd instantly be their top-line center. By a mile. That's no knock on Staalsy at all; it's what happens when you put him on a team whose top centers right now are Jason Arnott and David Legwand.
On paper, this is a ridiculous mismatch. The Preds top scorer is Patric Hornqvist, whose 51 points would be good for 5th on the Blackhawks. Yet last year, the Rangers proved a pop-gun offense can (almost) work in the playoffs as they took the Caps to seven games in the opening round. And here sit the Preds with 100 points on the season, which is an amazing testament to the coaching of Andy Sipowicz...er, I mean Barry Trotz.
Vancouver (3) vs. Los Angeles (6)
Luuuuuuuuuuuuuuuuuuu. Luuuuuuuuuuuuuuuuuu.
If the Olympics didn't get you ready for Vancouver playoff games, repeat the above line incessantly for two and half hours.
Who knew Vancouver was coached by Dan Aykroyd?
Henrik Sedin, we've got Jaromir Jagr and Alexander Ovechkin on Line 2. They'd like to talk to you about this "Scuderi" fellow.
Winnipeg (4) vs. Detroit (5)
50 wins and 107 points, each the highest totals in franchise history. What's your reward? How about a first round matchup with the Red Wings juuuuuuuuuuuuust as they're healthy and playing the best hockey of their season?
Detroit is the team that no one in the West wanted to see in the post-season and I'm not sure the Coyotes could've seen a worse matchup. That said, the Red Wings do appear to have some holes this season and the Coyotes didn't win 50 games by accident, and they played in a strong division. Phoenix has got solid veteran goaltending and a good defense. The question will be offense - can Phoenix's young forwards deal with the superior two-way game that so many Wings forwards play and generate enough offense to get some pucks past Howard?
Eastern Conference
Washington (1) vs. Montreal (8)
This is a series Washington SHOULD win going away. The Caps scored 101 more goals than the Habs did this year. What's more, the Habs gave up more goals than they scored - never a good sign for playoff success. THAT SAID...
Last year, a Rangers team with much less offensive depth took what was very much this same Caps team to seven games. Jaroslav Halak's save percentage this year is .924; Henrik Lundqvist posted a .908 save percentage in last year's series against Washington. If Halak can maintain his regular season pace, and if Montreal can get some timely goals...
New Jersey (2) vs. Philadelphia (7)
Spent part of Monday listening to EJ Hradek and Don LaGreca debate the merits of Brian Boucher finding goaltender nirvana for seven games and outplaying Brodeur. This is why I love playoff hockey. Two weeks ago, the national media was convinced Boucher wasn't good enough to get Philly into the playoffs.
Clarkson vs. Carcillo/Hartnell/Asham/Laperriere/Pronger/Richards should be fun.
Brodeur's played in 77 games this year, and he's faded horribly in the playoffs in each of the last two seasons. Philly has issues on defense and the usual problems battling chronic stupidity, but they can score and they've probably got better scoring depth through their top three lines than the Devils have.
Buffalo (3) vs. Boston (6)
As long as Ryan Miller doesn't confuse the black and gold of Boston with the black and gold of Pittsburgh, this series should last about five games and Buffalo should win.
Zdeno Chara. Tyler Myers. Giraffes on skates.
Penguins (4) vs. Ottawa (5)
Big questions here involve the Pens' ability to "flip the switch". The successes of the last two years and the taste of playoff hockey made the 82-game season even more of a grind than it normally is for players and fans alike. It was often reflected in the Pens play, sometimes for annoyingly long stretches.
That said, over the last stretch of games, Malkin and Crosby seem to be hitting their strides and other players are starting to follow suit. Malkin has shown more frequent glimpses of what we remember from last year's playoff run. Secondary scoring from guys like Guerin, Kennedy and the defensemen is starting to return.
Crosby has been absolutely dominant. In the last ten games of the season - six of them played without Malkin in the lineup - Sid had 6 goals and 15 assists. That's Lemieux-like production, kids, happening at the right time.
Can someone please let Alex Ponikarovsky know 1) he's playing for a contract and 2) it ain't ever gonna get any better than having Sid and Malkin feeding you the puck?
Jason Spezza. Still a douche.
Going to be interesting to see how the Pens defense responds in its own zone. Guys like Foligno and Neil will park themselves in front of Fleury and some Pens d-men are going to have to get nasty to keep the crease clear. We called him the USS Hal Gill for a reason (moved with all the grace and dexterity of an aircraft carrier), but he did make life miserable for anyone willing to go to the front of the crease last year.
Buckle up.
Add a comment