Via the PG:
A man struck his wife in the head with a hammer at least 10 times and stabbed her before starting a fire in his South Fayette home this morning in what police said was an attempt to conceal evidence of the killing.

Robert Abrams, 40, was charged with homicide, arson and abuse of a corpse in the death of his wife, Jeannette, 44.

The two quarreled, in part because Mr. Abrams had stayed up late to watch the Penguins' game, which went into three overtimes, before he killed her, Allegheny County Police Superintendent Charles Moffatt said.
Wonder if he'll watch Game Six?
Go Pens.
Add a comment
If you think there is going to be a full recap after last night, you're at the wrong blog. The only challenge for us after clicking the "publish" button is avoiding all highlights of this game for not only the next 24 hours, but for the next 24 years.
And we're hoping
Dicky
as The Undertaker is not forever cursed.
The Pens delivered a
chokeslam
by coming back from 2 goals to tie it.
Crosby delivered the Tombstone
Piledriver
in the third period.
But William Regal kicked out of it with a 2-count.
And then
Carkner
came in with a steel chair, and dragged the
Sens
on top of the Pens for the 3-count.
That's all you
gotta
know.
All we can say is that going to Ottawa on Saturday night will be like going into the lion's den.
But we've seen it before. Lived it before.
There is some cause for concern. Because Pascal
Leclaire
is dangerously close to hot-goalie
terrority
. All bets are off there. And because the
Sens
are ONE HOME GAME away from forcing a Game 7, which would then be played in the arena where they have played their best hockey in the series. But if the Senators feel like they've already accomplished something by winning this triple-OT game, then they've already lost the series.
On the flip side, let's not be stupid here and start saying ridiculous things like Lovejoy should dress for McKee.
The Pens were a bounce away from winning a triple-OT game and a series last night.
It just didn't happen.
The usual suspects are blowing everything out of proportion this morning.
Some people just aren't built to watch playoff hockey.
After the jump, some crap...
The next 24 hours will be a great time to start some type of bad habit.
Recap in the am. For now, we'll see
ya
on the
smithfield
bridge.
Add a comment
7:00 PM
Mellon Arena
Listen to the game at [
WXDX
]
Know the Enemy:
Tonight this could all be over.
One game.
60 minutes.
We could see the last of Chris Neil and Andy Sutton and Jason
Spezza
.
We could be done with the Senators once more.
We could shake their hands on our home ice and give Lady Mellon another victory.
Or we could end up going back to Ottawa.
This isn't over.
It takes four wins to advance in the Stanley Cup playoffs.
We only have three.
That means we have to beat the Senators one more time.
We have to skate faster than them, we have to hit harder than them and we have to score more often than them.
We cannot be complacent with our position.
We cannot let them back into this series.
We need a killer instinct.
We need to finish them off.
We need a burial.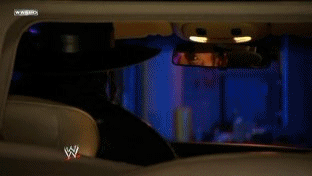 Nothing has to be said.
Send
pics
of your cats doing Penguin shit to
This email address is being protected from spambots. You need JavaScript enabled to view it.
.
First person to send
pic
of a cat actually doing a pile of Penguin feces is a beast.
After the jump, Crosby and
Ovechkin
are both dicks.
The Steelers schedule came out. They're finishing the season on the road.
Their last home game is on December 23rd.
The Winter Classic is January 1st. Just
sayin
'.
The win was sweet. The score was great, too. But nothing was better than watching a near-psychotic Chris Neil skate by the Pens bench and the Penguins just laugh in his pathetic face.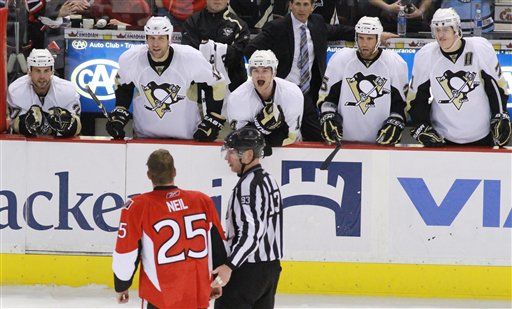 You know Granato's blood is boiling.
The Pens have broken the Senators' will to live.
Bill Elliott basically shit himself on national TV.
And Daniel
Alfredsson
is just a baby.
But, really, the story is Sidney Crosby and
Evgeni
Malkin
defying ordinary.
Crosby's goals were sweet, but how sick was the pass he made to
Kunitz
for the sixth goal of the game.
Two guys in his mouth. Outsmarts them, then delivers it to the
Koon
.
Geno
added another goal, as well.
4 goals in 4 games. We'll take that throughout the playoffs.
And then we get to mention Jordan
Staal
.
Recently nominated for the
Selke
as top defensive forward.
Now the scene moves from Ottawa to the Mellon for a Casket Match.
Personally, our lives would be complete if someone
went to the game on Thursday dressed as The Undertaker.
If we posted every
pic
and
photoshop
we got, the blog would look like a war zone.
We don't have favorites. We just put up
whatev
.
Every
photoshop
,
pic
, etc. we get is in our
Picasa
Web Albums.
And that, too, is a war zone. Just click Charlie's face above to check it out.