UFC
fighther
, and PA native Josh
Koscheck
sets the tone for Monday in Montreal.
After his knockout of some clown in a fight in Montreal, he pissed the Canadian faithful off.
"Don't worry, Pittsburgh Penguins are going to kick your ass next week, baby!"

Koscheck

yelled to the Montreal crowd. "And then I'm going to beat St. Pierre, so you guys are going to lose twice, how bout that? Yeah, that's right Montreal
So great. No video on this yet, because
Youtube
sucks. Also by next week, we hope
Koscheck
meant Monday. Just saying.
AJN44
comes up clutch in
cblog
with the video:
Still kind of iffy on the whole "next week thing."
From reading about
Koscheck
, he admits he is just some Pens
fanboy
. But
whatev
, it got some Montreal dude all jammed up and if you have to hand it to him for even doing it. He needs to work on his wrestling
villian
shit though. Perfect place for a suck it from him, and he blew it.
Last night our
picasa
account
vomitted
on itself. So we had some work around shit we had to do.
Stunned
pics
, knitting, dog
pics
after the jump.
He apparently didn't foresee the embarrassing delay-of-game penalty
that he committed in the third period of Game Five that crushed his team's momentum.
Kudos to Pens fans in Pittsburgh.
Radio stations all across the dial want Pens fans to call in to complain about Crosby not scoring.
And no one is taking the bait. It's beautiful.
We'll jump on the "Where's Crosby?" train if he lets his team lose a 7-game series without scoring a goal.
He hasn't scored
yet...because
he hasn't
had to
score.
You ain't going 16-0 during the playoffs.
Besides, we didn't watch Game Five in order to see Sidney Crosby.
We tuned in to see a bunch of Penguin sweaters win a pivotal Game Five.
And they did.
It all started with
Bylsma's
decision to put
Guerin
and
Rupp
in the lineup, while scratching -- let's face it -- no-shows in
Ruslan
Fedotenko
and
Alexei
Freeagent
.
Where were
Guerin
and
Rupp
for the Pens' two goals?
On the ice. In
Halak's
wife's ovaries. Mike
Rupp
was a force.
And Mark
Letestu
is exactly what the Pens need on the fourth line.
Kris
Letang
rebounded from a "bad" game in Game Four.
Gonchar
apparently isn't "tanking."
MAF
is slowly taking over
Halak
in the goaltending battle.
Malkin
is galloping. Craig Adams is destroying people.
And you got to feel bad for the
Habs
. Their coach won't let them play.
He waits until the third period to begin letting his forwards sustain
forechecks
.
You let the Pens get ahead by 2 goals, and you're
gonna
lose.
And here we go, back to Montreal for Game Six.
Gotta
love it.
After the jump, a recap sans
pics
'cause
Picasa
is being a joke.
7:00 PM
Mellon Arena
Listen to the game at [
WXDX
]
We've heard a lot about how the Montreal
Canadiens
are a team steeped in tradition.
We see it before every game at the Bell Centre.
100 years of history represented by a child in a Richard or
Lafleur
jersey symbolically passing the torch to the current team.
The Montreal
Canadiens
have won more Stanley Cups than any team in NHL history.
Not yet.
They're tied 2-2 in the second round of the playoffs.
And they're tied with a team that has its own history of tradition.
Our three Stanley Cups may pale in comparison to their 24 and our 43 years of existence are less than half of the
Canadiens
' 100, but that doesn't mean we're not a significant part of NHL history.
From
Pronovost
to
Lemieux
to Crosby and
Malkin
, we have our own rich history.
We have our own story.
We have our own tradition of success.
This could be the last Penguins game in the Igloo.
The very first Penguins game inside the Igloo was a loss to the Montreal
Canadiens
.
It would only be fitting for the final game to be the same.
But that's not going to happen.
Because the Igloo isn't done yet.
It has life left. It has hope left.
It will see more screaming crowds.
It will feel the rush of another white-out, another win and another playoff success story.
And that happens tonight.
Tonight is our chance to fill our old arena with cheers once more.
The crowd at the Bell Centre is definitely a factor during the games.
The crowd at Mellon Arena can be just as loud.
Despite what we have all heard for the last couple of days, this series is not over.
It's just tied.
It's now a best-of-three.
The 2010 Pittsburgh Penguins versus the 2010 Montreal
Canadiens
.
This isn't a battle of tradition.
This isn't a battle of history.
And this isn't the United States versus Canada.
Sidney Crosby, Jordan
Staal
, Max Talbot, Marc-Andre
Fleury
, Pascal
Dupuis
, Kris
Letang
, Matt Cooke,
Tyle
Kennedy, Chris
Kunitz
, and many others were born in Canada, but they will suit up in black and gold tonight.
Brian
Gionta
, Scott Gomez and Hal Gill are Americans, but tonight they will not wear the red, white and blue of their birthplace.
They will wear bleu,
blanc
et rouge of the Montreal
Canadiens
.
This is the 2010 Pittsburgh Penguins versus the 2010 Montreal
Canadiens
.
It's a best-of-three.
It's on.
We're just throwing a prayer out here, since it is Friday night.
But on the NHL Network at 7:00-8:00 EST, the 1996 Pens/Panthers ECF series is being recapped.
If you get it on YouTube, we don't even know.
Add a comment
The plan after Game Two, for us anyway, was to get the split in Montreal.
That's been accomplished.
The Penguins didn't particularly play a great game in Game Three. They won.
The
Habs
returned the favor in Game Four.
Looking anymore into this is a fool's errand.
The scene now shifts to Saturday night and what could be the last game ever played at the Mellon Arena.
Until then, just avoid all media.
You'll be subject to hearing people say
Gonchar
is tanking, that
Fleury
sucks, that Kris
Letang
kicked a puck in, etc.
Don't do that to yourself.
All we can say is act like you've lost a playoff game before. Don't embarrass yourself.
The last time the Pens played against a structured system like this, it was against Detroit.
It was easy to respect the Wings, though, because they actually have talent.
The Wings held Crosby in check for only so long.
Until he put home the go-ahead goal in Game Four.
As the old adage goes:
Great players aren't always great. They're just great when they have to be.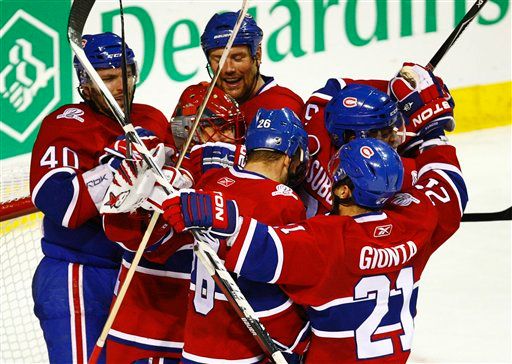 At least act like you deserved to win the game.
The over-the-top celebration by the players says a lot.
We'll take anyting we can get.
It is such a shame P.K. Soupcan and Elliot Freidman didn't make out after the interview.
Add a comment
Although the Bell Centre reaction was indicative of a Game 7 Stanley Cup win, it was actually a Game 4 win in a series where the
Canadiens
are being severely outplayed but are getting timely bounces.
Wanted a split heading to Montreal. Got it. No worries.
Add a comment
7:00 PM
Bell Centre
Listen to the game at [
WXDX
]
When a series is 2-1, the fourth game is possibly the most important game.
If the Pens win tonight they lead 3-1 and they're coming back home.
Obviously that situation didn't help the Washington Capitals, but usually it's a pretty good one to be in.
If Montreal wins they tie the series and have momentum heading back to Pittsburgh.
It becomes a best-of-three at that point and anything can happen.
You know how you know it's a big game?
We avoid any sort of physical activity whenever we have a slight stomach ache or have stubbed a toe.
Jordan
Staal
lacerated a tendon on Friday night, had surgery and he wants to play today.