GAME TWO
Penguins Lead Series 1-0
Wednesday night was everything we could have asked for as Pens fans.
The Pittsburgh Penguins played exactly how they needed to.
They were dominant as they outworked and outclassed the
Philadelpia
Flyers.
The Flyers responded by filling the penalty box with orange and white jerseys.
The game ended with a frustrated Flyers team frantically trying to exert some sort of physical presence while a celebratory Penguins team stood in triumph.
It was a great moment for every Pens fan.
But that moment has passed.
Tonight will be an entirely different game.
And it likely won't be that easy.
Yes, the Flyers are the most penalized team in the league, but they are also very talented offensively.
If they listen to their coach and their captain, they will play a completely different game tonight.
Their goals tonight include taking less penalties and matching the Penguins' intensity.
The Penguins goal is to keep skating hard, keep working hard and keep hitting hard.
To quote Dan
Bylsma
, "it's a race to four."
One down. Three to go.
Game 3 Sunday Won't Be On Outdoor Screen

Pittsburgh Penguins Apr 17, 2009, 1:36 PM EDT

The Penguins will not show Sunday's Game 3 of the Stanley Cup playoffs on the outdoor screen in front of Mellon Arena because of a decision by NBC Sports.

Sunday's game will be televised nationally by NBC. As a policy, NBC Sports does not allow teams to show their broadcasts on arena screens.

The Penguins will show Game 2 tonight on the outdoor screen, and will resume the screen for Game 4 Tuesday night. Both of those games will be broadcast locally by

FSN

Pittsburgh.
NBC, the channel that has used the Pittsburgh Penguins and Sidney Crosby in just about every commercial since the network started airing hockey games, is refusing to let the team show game three of the Penguins/Flyers series on the giant screen outside the arena.
Ironically, MSNBC
published this article
on Wednesday in which they wrote "during the Penguins' run to the Stanley Cup finals last season, the outdoor TV routinely drew a couple thousand fans."
NBC is airing the game nationally on Sunday and must figure that a thousand or so people watching on a big screen will ruin their ratings.
It's funny that the NBC company line is now that "NBC Sports does not allow teams to show their broadcasts on arena screens."
You might remember that a giant screen was outside the arena last year.
In case you don't, you can read all about it
here
.
NBC aired those games and the giant screen did as well.
Perhaps when they walked into the arena the NBC staff didn't notice a huge screen surrounded by a thousand people.
Strange that a thousand people were easily ignored by NBC last season, but this year those same thousand people watching a game outside the arena are a danger to the company's ratings.
This is the decision of the NBC national network and not any local affiliate.
If you are planning on going to the game tonight, either inside the arena or to watch the screen outside, and you disagree with this decision bring a sign and/or start a chant.
Possible suggestion: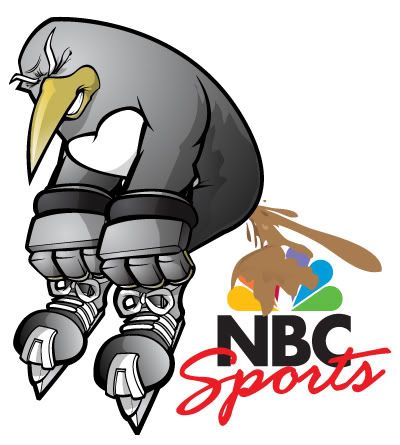 Click for high res image
If you disagree with this decision and feel the need to respectfully have your opinion heard, NBC Sports can be reached at
This email address is being protected from spambots. You need JavaScript enabled to view it.
Brian Walker, Senior Director at NBC Sports can be reached at
This email address is being protected from spambots. You need JavaScript enabled to view it.
Adam
Freifeld
, Director of Communications at NBC Sports can be reached at
This email address is being protected from spambots. You need JavaScript enabled to view it.
Mike
McCarley
, VP Communications and Marketing at NBC Universal Sports & Olympics can be reached at
This email address is being protected from spambots. You need JavaScript enabled to view it.
Lyndsay
Iorio
, Communications Coordinator at NBC Sports can be reached at
This email address is being protected from spambots. You need JavaScript enabled to view it.
Kathy Connors, Manager, Sports Communications at NBC Sports can be reached at
This email address is being protected from spambots. You need JavaScript enabled to view it.
Kenneth
Schanzer
, President of NBC Sports can be reached at
This email address is being protected from spambots. You need JavaScript enabled to view it.
Dick
Ebersol
, Chairman of NBC Universal Sports & Olympics can be reached at
This email address is being protected from spambots. You need JavaScript enabled to view it.
NBC can be reached by phone at 212-664-4444 or by fax at 212-664-4426
NBC Sports can be reached by phone at 212-664-2642
Add a comment
Daniel
Carcillo
has been suspended for Game 2.
John Stevens has been fined $10,000.
LINK
Apparently, the NHL had a big-time meeting on Monday
telling coaches not to "send messages" at the end of decided games.
dying alive

After the jump, the call to arms has been answered.

and thanks to Patrick W. for the top banner

Plus a reporter fail from last night.

Don't make the jump if you don't like synonyms for "chicken."
Every day of the playoffs is a big deal,
even when your team isn't playing.
News came along the wire Thursday that Daniel
Carcillo
may be facing suspension for jobbing Talbot at the end of Game One.
Call to Arms after the jump
If the Pens would have come out and laid an egg,
we would have said. well. in '91, they lost the first game of every series.
But they win in dominating fashion.
If you're already thinking about the next round, you are high.
Welcome to the NHL playoffs.
The game was everything you want if you have home ice.
You score a goal early, get another one, and just job.
The most staggering thing about the game was how good the Penguins defense was.
The Flyers just need the PP to score goals.
We totally forgot Mark Eaton didn't play in the playoffs last year.
How emotional was it to see him lay his body out to block a pass.
It is a long road to travel. Game 2 will be a monster.
1 down, 15 to go.
GAME ONE
If this game had any additional hype it would explode.
The Pens hate the Flyers.
The Flyers hate the Pens.
After days of talk tonight is the time for action.
Last year means nothing.
The season series means nothing.
Flyers bloggers who still think "Cindy
Crysby
" is witty mean nothing.
All that matters is that the playoffs are here.
A few months ago no one thought we would be here.
We are.
Fans of the 29 other teams in the league were licking their lips at the thought of a monumental collapse by the Pittsburgh Penguins.
They didn't get one.
Now it's time to show them what we can do.
We need sixteen wins.
Two more than last year.
It's almost impossible to not dig into last year's
But last year is last year.
You had a girlfriend last year, but then she banged some dude she works with.
Things change.
Flyers fans being whiny bitches is what doesn't change, however.
Tampon sales in Philadelphia are higher than any other part of the country.
Is the Flyers' level of suck enough for the Pens to job them again?
do it
Click "Read More,"
noobs
.
The only thing we are experts on is how to job people.
But hockey is fun to throw around, too.
With that being said, we wanted to welcome aboard one of new sponsors:
There are also some sick deals if you sign up through them.
Here are all the odds:
Pens a solid 9 to 1
If you head over there, you'll see they've amassed unreal
NHL stat pages
.
We flirted with gambling stuff earlier this season.
We did all right, then we cooled off faster than MySpace.
Taking a page from ESPN's Bill Simmons' NFL Playoff Manifesto,
[LINK
],
we wanted to make an NHL Playoff Manifesto.
After the jump, we have our first-round rules that we've picked up
through our years of watching playoff hockey.
In the comments, please add any you feel pertain to a series.
Or don't and continue being pumped for Game One.